CLASS maintains and further develops world-leading ocean modelling capability to enable ground-breaking science, and to provide reliable predictions of environmental change to Government and international assessment efforts, including IPCC.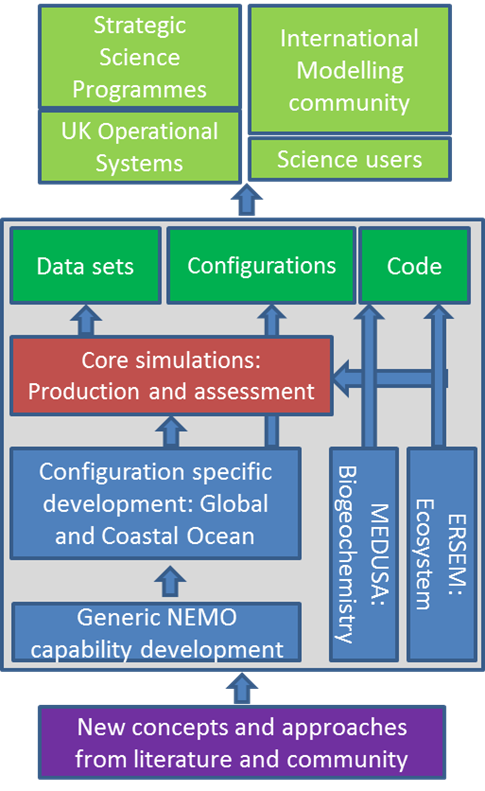 CLASS model development contributes to several modelling initiatives:
Within the international NEMO consortium we are developing and maintaining the underlying code base for this state-of-the-art and world-class ocean modelling system.
CLASS provides the ocean component for UK predictive systems run by the UK Met Office, including climate models, earth system models, the Copernicus marine forecast system, the UK Environmental Prediction system, and the UK seasonal and decadal forecasting systems. The strategic configurations we develop provide the basis for multi-use simulations, typically for many decades of recent past and future climate conditions. Model assessment and co-analysis with observations form a crucial part of the process, and link strongly with other elements of CLASS.
We are actively developing "MEDUSA", an intermediate complexity biogeochemical model, and "ERSEM", a scalable complexity ecosystem model.
We are combining our expertise in global and shelf-sea modelling to develop an innovative "global-coastal-ocean "hydrodynamic-ecosystem modelling capability.
Together these systems, and the component models, support and benefit from a diverse range of science activities across the UK and international academic community, forming the basis for high-quality scientific research. They are critical components of NERC Strategic Research, NERC National Capability Long Term Science programmes, and Official Development Assistant (ODA) programmes, and directly underpin NERC strategy in the areas of environmental change, hazards and resources.
Opportunities
CLASS model output is there to be used... wondering how to get started with using model output? CLASS is running workshops to show you how to go about it, so contact us for details, or to find out how to get hold of the outputs.