The International Day of Women and Girls in Science is a great opportunity to recognize the critical role women and girls play in science and technology. On board the RRS James Cook a team of 10 women explore the ocean characteristics through water sampling, analysis and data modelling.
---
Dr Maria De La Fuente Ruiz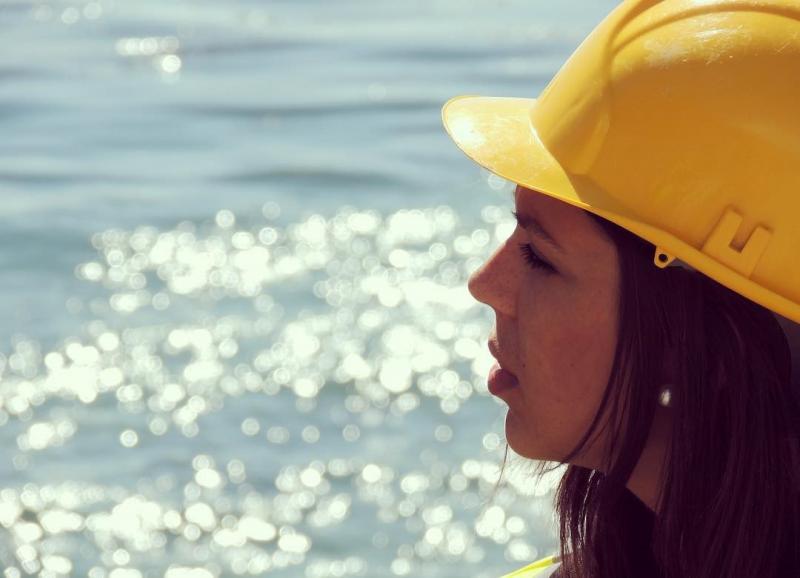 Maria is a post-doc researcher at the Polytechnical University of Barcelona, working on developing and implementing early warning systems on large scale landslides in the Pyrenees.
"I work at comprehending and modelling the mechanical behavior of natural sediments to assess geohazards triggered by their mechanical instability. Although my expertise is not related to the study of hydrographic sections my passion for oceanography, which I discovered while developing my PhD at the National Oceanography Centre (Southampton), have brought me on board the RRS James Cook as a volunteer scientist."
Qualifications
I hold a PhD in methane hydrate-bearing sediments, a MSc in Geotechnical engineering, and a BSc in Geology. My A-Levels are geology, geotechnics and numerical modelling of advanced geomechanics.
Role in the expedition
At all stations occupied during JC191 I sample water for dissolved oxygen (DO) to calibrate the dissolved oxygen sensor installed on the CTD. DO samples are the first to be collected due to the volatility of the oxygen gas.
During sampling I take special care to avoid bubbles inside the sampling tube and sampling bottles. I collect seawater into pre-calibrated Pyrex 'Iodine titration' flasks, then I add to the samples the reagents (i.e., manganese chloride and sodium hydroxide/sodium iodide solutions) that sequestered the oxygen into a solid precipitate. Following the addition of the fixing reagents I mix the samples and then kept them in a dark plastic crate for 30-40 min to allow the precipitate to settle.
After collection, I applied Milli-Q water to the neck of the sample flasks in order to prevent the ingress of air. Once the precipitate has settled I mix the samples for a second time in order to ensure that the reaction is complete and I replace the water seal. About two hours after collection I subject he samples to titration. Finally, I mathematically convert the resultant volume of titrant into dissolved oxygen concentration.
Number of days at sea
Being the JC191 my second oceanographic expedition after crossing the Drake passage I would sum up a total of 78 days at sea!
Support for equality and diversity
It doesn't matter if you are a man or a woman, in science what really matters is your determination. Never limit yourself and always believe in your unlimited power to contribute to the scientific community.
---
Dr. Ing. Anna Kolomijeca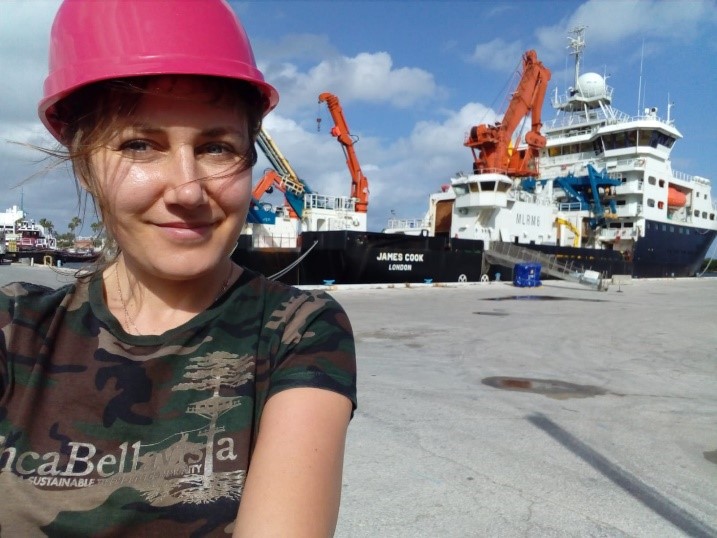 Anna is a post-doc in Station Biologique de Roscoff in France, working on development and improvement of in-situ mass spectrometer to analyze dissolved methane gas in the ocean.
"Most of the methane in the ocean is stored at the sea floor. Usually it comes out via cold seeps or hydrothermal vents, as well as dissociation of gas hydrates. In the water column almost all methane is oxidized by bacteria and rarely passes though the thermocline zone in the ocean. However, in the contest of climate change, some methane might pass from the ocean into the atmosphere. Since methane is causing a greenhouse effect much stronger then CO2, the ocean methane cycle is being under strong scientific interest.
"Additionally, there is a phenomenon called the 'methane paradox' with unusually high methane concentrations in the surface waters (probably produced by bio organisms). The best way to measure methane is in situ (applying mass spec). My task on board of James Cook is to test a newly developed mass spectrometer for measurements of the dissolved methane in the sea surface waters."
Qualifications
I hold a BSc and MSc in chemical engineering from Riga Technical University, a PhD in physics (ocean sensors development) from Technical University of Berlin, one post-doc in positioning technologies from Autonomous University of Barcelona and one post-doc in ecology (ocean microplastic pollution) from University of Toronto.
Role in the expedition
On board I do measurements using the new mass spec for surface sea water (which is supplied via pipe to the laboratory) developed in Harvard University. Additionally, I collect water samples along the water column in the areas of continental margins and surface water from top 400 m in the opened ocean that will be analyze with a gas chromatographer back in the Station's lab.
Number of days at sea
JC191 is Anna's second expedition, and the total number of days at sea will be 65 by the end of the cruise.
Support for equality and diversity
Personally, I have never experienced any kind of gender discrimination being a woman in science. It is actually quite opposite; many research organizations prefer to hire women for scientific positions. All my colleagues have always been very adequate and supportive. I encourage other women to follow their passion and not think too much of 'how it looks' and 'what others might think?'
---
Jessica Newman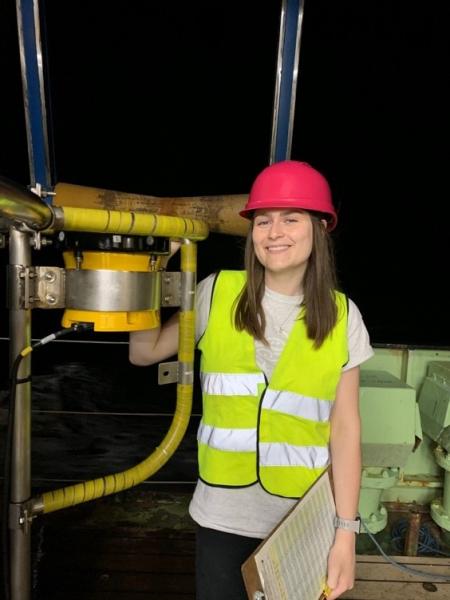 Jessica is a recent Physical Oceanography MPhil graduate from Newcastle University researching abyssal basin circulation.
"My research utilised He3/He4 concentrations from hydrothermal sources of the semi-enclosed Panama Basin to infer circulation and the changes between water masses deeper than 2000m to those shallower than 2000 m. I have a huge passion for the oceans and gaining this practical experience is so valuable to me, it is making me more excited to see where this career takes me!"
Qualifications
I have a MPhil in Physical Oceanography and a BSc in Marine Biology
Role in the expedition
On board I am a member of the Marine Physics team, most of my efforts go into regulating and monitoring the multiple data streams that are being continuously recorded on the ship, as well as the data being recorded from each CTD profile. My main focus is on the Lowered ADCP sensors that are attached to the CTD rosette, these record full-depth ocean velocity profiles for each station we sample.
There are two ADCPs on the rosette (both 300Hz); one that looks down through the water column and a second that is facing upwards. ADCPs use acoustic pings to collect velocity profiles measured with reference to its moving self. The downward-looking ADCP can detect the seabed and, when it is within range, tracks the ACDP velocity over the ground. We will also use the depth and sound speed data collected from the CTD sensors to calibrate the measurements taken by the ADCPs. This is in addition to ship drift data to track the horizontal movements of the instruments and vessel mounted ADCP data to constrain the near-surface velocity measurements (surface to ~750 m). The upward-looking ADCP supplements the data collected by the down-looker and when the rosette is moving up through the water column it provides current profiling without wake interruptions from the rosette's movements. As part of the Physics team, I also take seawater samples from the Niskin bottles on the rosette which are later analysed for precise salinity (to 0.002PSU) measurements using an Auto Salinometer. This method is used to validate the CTD profile data and to detect potential sample contaminations for our other science teams.
Number of days at sea
This is my first cruise (and I am hoping it is one of many), so by the end I will have clocked up 45 days at sea!
Support for equality and diversity
I have never believed gender has a play in your abilities to pursue your dreams, if you have the determination and drive to succeed in developing as a person then there reason why you cannot follow the path you choose. I have been very lucky in my life, with the amazing support of many strong women (and men) around me.
---
Hannelore Theetaert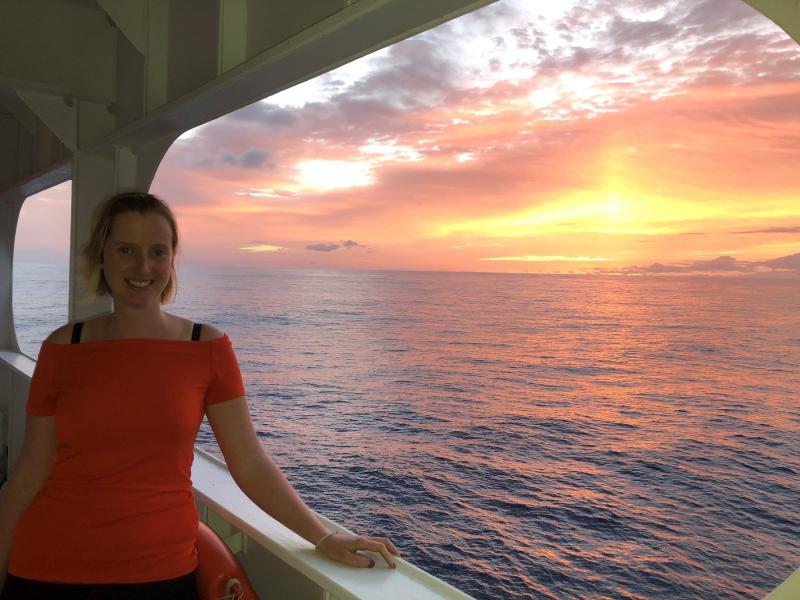 Hannelore is a marine chemistry lab technician in the Flanders Marine Institute (VLIZ), involved in ICOS (Integrated Carbon Observation System). Within ICOS the Flanders Marine Institute is responsible for two ICOS stations: the RV Simon Stevin and the VLIZ Thornton buoy (class 1).
"My role in this is going on monthly sampling campaigns with the RV Simon Stevin to take spot samples for dissolved oxygen, pH, total alkalinity, dissolved inorganic carbon and nutrients. Back in the lab I analyze the samples and process the data. I also assist in setting up and maining the sensors on the buoy, set up/maintain the pCO2 system on the RV and do corrections on the pCO2 data. Doing lots of different things from sampling to analyze the samples, setting op sensors/systems, look at data,… all those things make my job very interesting!"
Qualifications
I have a BSc in chemistry.
Role in the expedition
On board I installed systems that measure underway pCO2 and Total alkalinity between Florida and Tenerife. Since this region is under-sampled, this will allow us, together with the discrete measurements of DIC and alkalinity to examine the full carbonate system on a bigger scale. Systems are checked daily to assess the data quality.
I am also a member of the oxygen/nutrients team and at all stations I sample for dissolved oxygen or nutrients. After the sampling I perform the oxygen titrations in the lab.
Number of days at sea
I go sampling every month in the North Sea, but this is my 2nd big campaign and the longest one until now!
Support for equality and diversity
Follow your dreams, it doesn't matter if you are male or female!
---
Dr Anita Flohr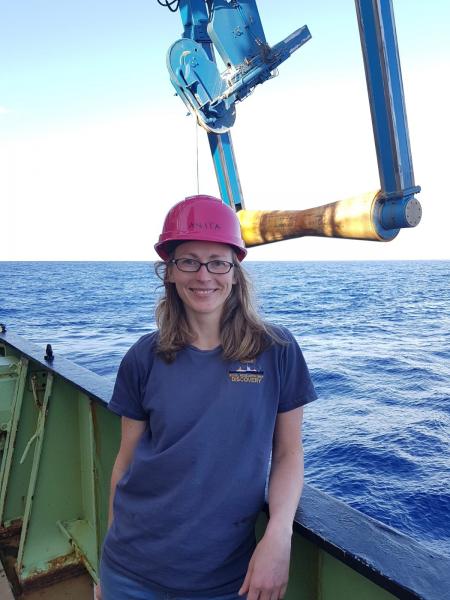 "I am a chemical oceanographer at the National Oceanography Centre in Southampton.
"I am fascinated by the strong impact of marine processes on atmospheric carbon dioxide (CO2) concentrations and thus on Earth's climate. My research interests evolve around marine carbon and nutrient cycling. More specifically, I am interested in the role of nutrients in driving biological carbon fluxes and in the drivers of CO2 fluxes between the surface ocean and the atmosphere."
Qualifications
I have a German Diploma in Marine Biology from the University of Rostock, Germany and a PhD in Marine Biogeochemistry from the University of Hamburg, Germany. I did my first post-doc at the Department of Ocean and Earth Science at the University of Southampton and just started my second post-doc with the Ocean Biogeochemistry and Ecosystems Group at the National Oceanography Centre, Southampton.
Role in the expedition
During JC191 I am part of the Carbon Team – a fantastic team of four researchers, Vanesa Romero-Kutzner, Pete Brown, Daniel Kerr and me. We work in shifts and share the workload equally. My role on this cruise is to sample water from every CTD cast, to process the samples and analyze them on board for dissolved inorganic carbon (DIC) and total alkalinity (TA). By the end of the expedition we will have taken and analyzed more than 3,000 samples. Our results will feed into a large data base of oceanographic data that has been gathered over many years by many researchers. Our results will help to improve our understanding of the spatio-temporal variability of the Ocean's carbon uptake and storage.
Number of days at sea
The JC191 cruise is my 12th oceanographic expedition, by the end of JC191 I will have spent 302 days at sea.
Support for equality and diversity
Research is team work and luckily I have always worked in a supportive environment. I am grateful to all the women and men who paved the way and I encourage everyone to follow their interests no matter their gender.
---
Katherine Grayson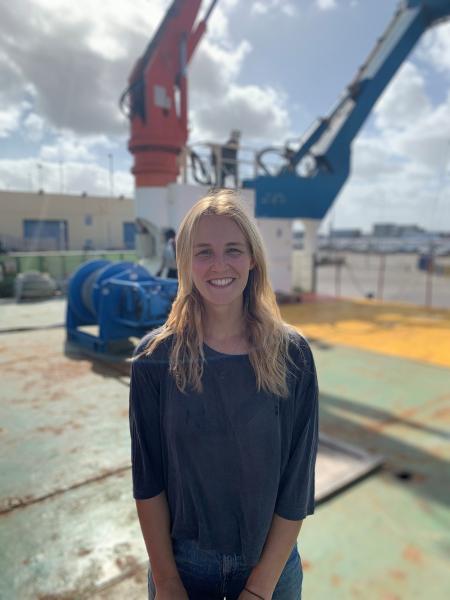 Background
Katherine is a PhD student in fluid dynamics, now into her third and (hopefully) final year. She works experimentally, looking at the nonlinearities of internal gravity waves. These waves are thought to be one of the mechanisms that drive global ocean circulation and understanding more about ocean dynamics is how she has found herself as a volunteer scientist onboard. While it is not a direct link to her PhD she is excited to learn more about the complexities of oceanography and get idea of how life as an observational oceanographer looks.
Katherine completed her Civil Engineering degree at Canterbury University, New Zealand. After working as a graduate engineer in construction for sometime she applied for a post graduate position and is now based in the Department of Applied Maths and Theoretical Physics in Cambridge.
Role in the expedition
As part of the physics team we are responsible for co-ordinating sampling of the CTD and for the testing and calibration of salinity, oxygen and temperature measurements. I also work closely with the thermosalinograph underway system, making sure we are constantly sampling the ocean surface throughout the journey.
Number of days at sea
This is my first and hopefully not last cruise. I will have spent 45 days at sea by the end of the trip!
Support for equality and diversity
You never know until you try!
---
Dr Eleanor Darlington (Twitter: @efdarlington)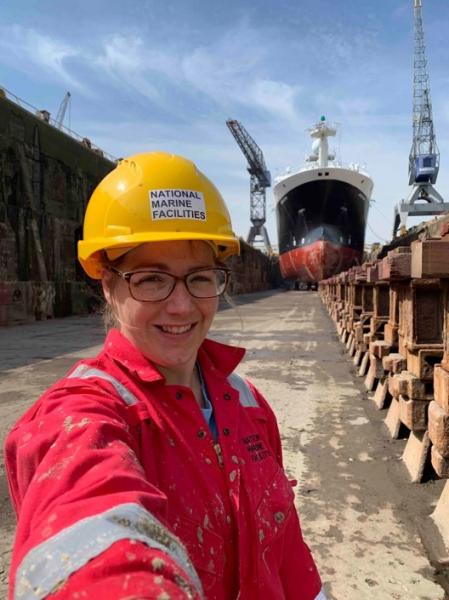 Eleanor is a scientific ship systems technician onboard RRS James Cook. She took a route into the technical support, after being a scientist herself. Her role involves sailing on expeditions, maintaining equipment and integrating new technologies and systems into the UK research vessels.
Qualifications
I have a PhD in Arctic glacier – ocean interactions from Loughborough University and the British Antarctic Survey, and an MSci in Oceanography from the University of Southampton. At A-level, I studied physics, chemistry, geology and photography.
Role in the expedition
I am responsible for all of the ship fitted scientific systems, data management and IT and networking. On JC191 we are using the multi-beam swath (EM122) and single beam echo sounder (EA640) for mapping the sea floor and determining the depth; the vessel mounted ADCP's (OS75 & OS150) for measuring ocean currents, surface water sampling instruments, meteorology instruments, GPS systems, and real time data displays. There are over 20 scientific computers to run this, in addition to four servers, and several kilometers of cabling! Data is the valuable product that is produced onboard, so several systems are duplicated and data is backed-up and backed-up again to ensure nothing is lost. I also look after the satellite internet, which is how you've been able to get this blog post, hurrah!
Number of days at sea
An estimated 420 days, having been to the Arctic, Antarctic, and transiting the length and width of the Atlantic.
Support for equality and diversity
In National Marine Facilities Scientific Engineering I am one of three women, out of a total of 38 technical staff. Science and engineering is a fantastic field to work in; my job is interesting, varied and has great travel opportunities. There is real value in working in a diverse team – greater innovation, different approaches and new ways of thinking. People should be able to undertake whatever career appeals to them, and workplaces need to create a culture that encourages and supports this diversity. There have been hurdles to overcome, not everything is equal, but things are improving all the time. I am lucky that I work with great people – at the end of the day, I'm just one of the team.
---
Vanesa Romero Kutzner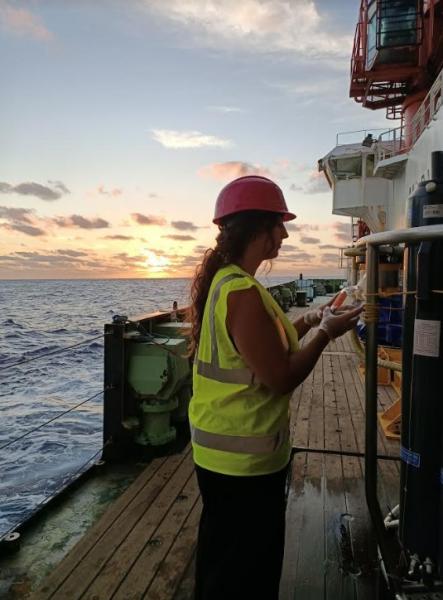 Vanesa is a PhD student from the University of Las Palmas de Gran Canaria, she studies the metabolism of jellyfish, through enzymatic methods linked to their cellular respiration. These enzymatic methodologies provide information about their maximum potential respiratory activity.
"My work mostly occurs on land in the laboratory where I measure respiration of single specimens simulating different environmental conditions (e.g. a marine heatwave) to determine their physiological state under stressors. Now on board, I am part of the Carbon team, we measure CO2 concentrations throughout the water column. This enables me to get a sense of the Total Carbon concentration across our hydrographic transect – a much bigger scale than what I am used to seeing. To add to the spatial resolution we get across the transect, this oceanographic expedition started in the 90s and is repeated every five years. The temporal changes of the actual seawater characteristics will be useful when setting parameters in my future experimental designs."
Qualifications
I have a Spanish Licenciatura in Marine Science from the University of Las Palmas de Gran Canaria, Spain and a MSc in Oceanography from the same University.
Role in the expedition
I am a volunteer within the carbon team on this expedition. My duties are to sample water from the Niskin bottles after each CTD cast, I then fix the samples with HgCl2 to ensure there is no further CO2 production. I also analyse the seawater samples in the lab onboard the ship, the instrumentation I use for that are two Vindtas 3C from Marianda. These look very vintage and make funny noises, but they give us very reliable results! The Vindtas' analyse dissolved inorganic carbon (DIC) and total alkalinity (TA) which are important values to quantify in relation to the changing climate. These data points will go towards the carbon team's contribution to the expedition.
Number of days at sea
The JC191 cruise is my first oceanographic expedition, by the end of this cruise I would have celebrated my birthday and spent 45 days on board.
Support for equality and diversity
I do not believe that gender determine the role you can play in science, but from what I have seen, it is one of those careers that affects decisions related to family planning and motherhood.
---
Jo Lester
Jo is a PhD student at Imperial College London, using radiocarbon to study ocean circulation.
"I use observations of oceanic transient tracers such as radiocarbon, to compare against ocean models, in order to investigate ocean transport and mixing processes. Human influences have caused the distribution of oceanic radiocarbon to change significantly over the last 70 years, and it will continue to change into the future. The only way to observe these changes is through ship-based cruises, which capture snapshots of how the ocean looks at any one moment in time. Radiocarbon is typically measured every 10 years or so along key hydrographic sections in the ocean, but the section we're currently sailing (24°N in the Atlantic) has not been sampled since 1998, so being able to join this cruise is a great opportunity to fill a data gap, and contribute to the global archive to help understand ocean circulation."
Qualifications
I have an MSc in Applied Physical Oceanography and a BSc in Physics. I also worked as a consultant in marine energy for 10 years before starting my PhD.
Role in the expedition
I'm on the ship to record the spatial distribution of radiocarbon in this part of the ocean, across the entire depth and longitude profile. I collect seawater samples in foil bags, which have previously been flushed through with nitrogen gas to ensure they are free of any contaminants. When filling the sample bag with seawater, I make sure not to allow any air into the bag, as atmospheric air also contains radiocarbon which would contaminate the seawater. The sample bags are then immediately placed into a freezer so nothing can grow inside them, as this could convert the dissolved inorganic carbon into dissolved organic carbon, and again influence the observations. The frozen foil bags will stay in their freezers until the ship arrives back to its home port of Southampton. Finally they will be transported up to a laboratory in Scotland to be analyzed by a team using an accelerator mass spectrometer (AMS), and we'll be able to see the results.
Number of days at sea
At the end of this cruise I'll have totaled 85 days at sea, if you don't include ferry trips to France, Ireland and Spain over the years!
---
Dr Alejandra Sanchez-Franks (@thelocal_ale)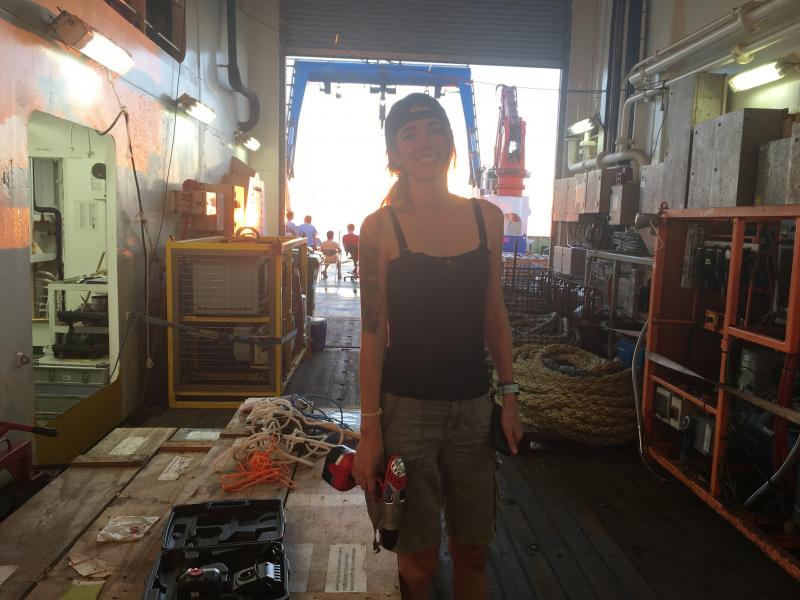 Alejandra is a research scientist at the National Oceanography Centre in Southampton. Alejandra's background is in physical oceanography and she is particularly interested in heat and volume transport in the North Atlantic. She is also currently a member of the UK-RAPID (https://www.rapid.ac.uk) team, focused on monitoring changes in the Atlantic Meridional Overturning Circulation.
Qualifications
PhD in Marine and Atmospheric Science from Stony Brook University, NY
Bachelors in Applied Mathematics from the University of Waterloo, ON
Role in the expedition
Alejandra is the chief scientist for the CLASS GO-SHIP 24N hydrographic research expedition. Part of her jobs consists of coordinating all the science teams before, during and after the research expedition to ensure the successful collection and delivery of chemistry and physical oceanographic data to GO-SHIP standard s– the highest standards for ocean measurements in the world! Alejandra is also part of the physics team on board, where measurements of temperature, conductivity, pressure, velocity, and surface meteorological parameters are being collected and calibrated. At the end of this research expedition the chief scientist and the physics lab will incorporate all data streams from all the teams aboard the cruise for final submission to the GO-SHIP programme. As with all GO-SHIP research expeditions, data from this cruise will become free and publicly 6 months after this research expeditions ends (https://cchdo.ucsd.edu).
Number of days at sea
Over 200 days including trips various research expeditions in the North and South Atlantic Oceans, the Indian Ocean and the Pacific Ocean!