Lukas Marx - JC191 26N research expedition
Submitted by

admin1

on Tue, 2020-05-19 15:48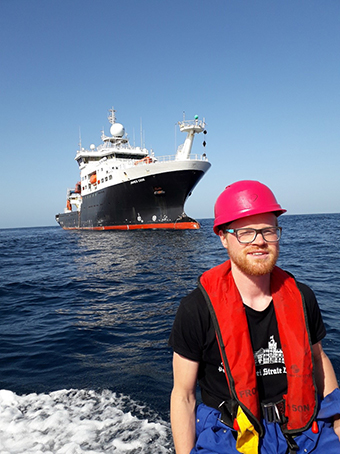 My name is Lukas, I am 28 years old and after successfully completing an international Master´s degree in marine sciences, I started my PhD at the University of Portsmouth in October 2019. My main research interest lies in biogeochemical cycling of nutrients and their fate in the marine environment. During my PhD project, which focuses on nutrient resources in future oceans, I am investigating how anthropogenic stressors alter the nutrient reservoirs in the ocean and what effects this has on the planktonic community and therefore on the dynamics and cycling of vital nutrients within the marine realm.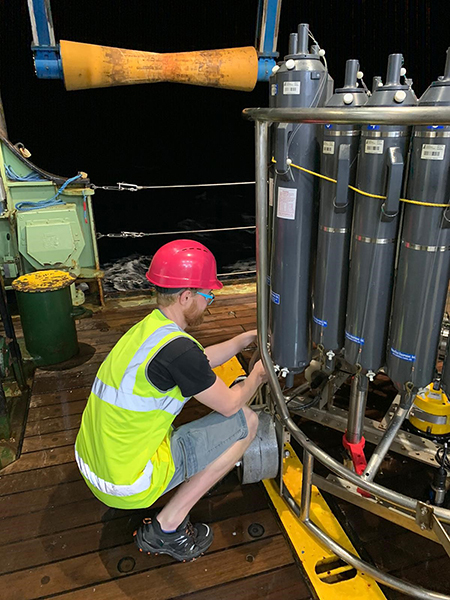 Starting a PhD was a big decision for me, as it involves much more than just being a student. At this stage, one fully commits to research and the life of a researcher. Due to the nature of my project, certainly I needed to join a research cruise. I applied to the CLASS ECR fellowship to join the JC191 26N research cruise on board the RRS James Cook in January and February 2020. The ship set sail in Fort Lauderdale, USA and crossed the North Atlantic to a final destination of Tenerife, Spain along the 26°N GO-SHIP transect. The ECR fellowship provides a great opportunity for young scientists, especially at the start of a career. Furthermore, it grants access to facilities and resources and most importantly to a network of experienced researchers.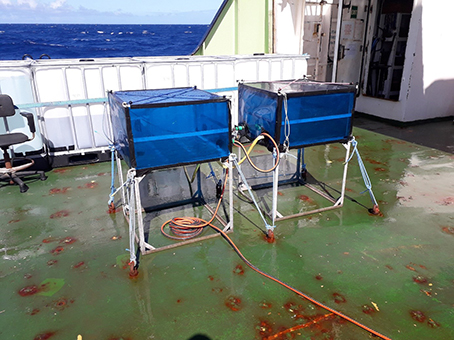 This research cruise presents an essential part of my PhD and enabled me to not only collect samples and data, but also to connect with an international group of scientists on board. Thanks to the ECR fellowship I could conduct many bioassay incubations on board the RRS James Cook and collect samples from one CTD per day. Furthermore, the resources provided by the fellowship enabled me to collect samples and receive a contribution towards the analysis back in the UK. In total, during the JC191, I was able to collect around 2300 samples for Chlorophyll a, bacterial and small phytoplankton community composition (flow cytometry), dissolved and particulate organic and inorganic nutrients and carbon. Alongside this extensive sample set, the networking on board of the ship will be a huge benefit for my future career. Not only forming life-long friendships, but also working alongside researchers of various ages and countries of origin is a unique and helpful experience.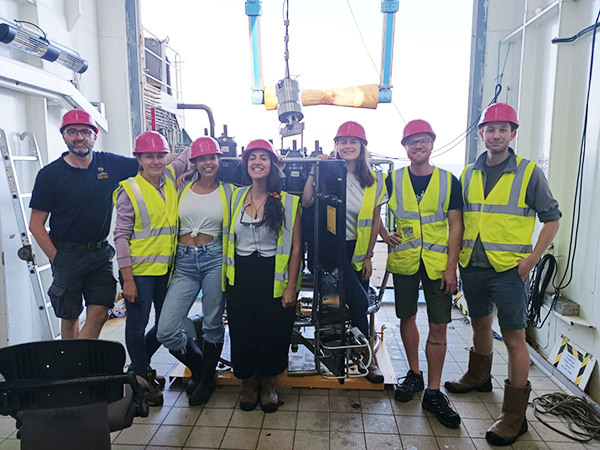 Looking back at the time I spent on the RRS James Cook, I can only be thankful for the opportunity of joining. Not only the data and samples I collected will be a big part of my PhD but also the memories and friends I made will stay with me for a long time. Apart from all the work, I was lucky to see a lot of wildlife and of course many breath-taking sunrises and sunsets. The time on a research vessel is very intense, as there is no such thing as weekends or a day off. It is very demanding, both physically and mentally. However, I experienced a very helpful, professional and productive atmosphere.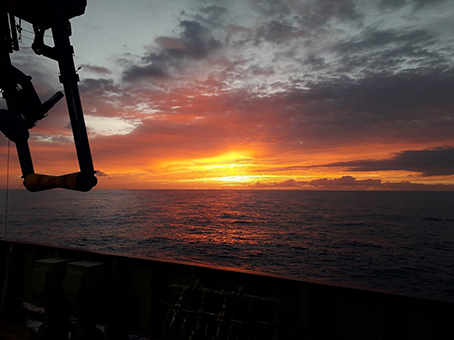 Now, being back in the UK (even though in times of Covid-19), I still remember the cruise and hold contact with the people from the ship. Most of my samples are still on board and waiting to be analysed. Meanwhile, I am producing nutrient and chlorophyll maps with the data I collected, and the results look promising. However, I am very eager to analyse the remaining samples, especially from the bioassay incubations. All the samples and analyses will be a substantial part of my PhD with plans for at least one publication from this sample set.
Finishing off, I would like to thank the CLASS program, awarding me with the ECR fellowship and making it possible for me to join the cruise, experience this amazing time on the ship, expand my professional network and especially for enabling me to get so much work done. I can only encourage other ECR researchers to apply for this fellowship, as it is a great opportunity to boost your career and make personal and professional contacts for life.