Capacity Development

Vision Statement
Through international cooperation, IOC assists its Member States to collectively achieve the IOC'S high-level objectives with particular attention to ensuring that all Member States have the capacity to meet them.
Capacity building (CD) is essential to the IOC's mission as it enables Member States to participate in and benefit from ocean research and services vital to sustainable development and human welfare. Capacity development is the primary catalyst through which the IOC can achieve the objectives set out in their strategy. 
For the last 55 years, Member States have benefited from the IOC's capacity development, from the first International Indian Ocean Expedition to the revitalisation of African marine science coordination and establishment of the global tsunami warning network, including the monitoring/forecasting networks that save lives. Partnerships between the IOC, Member States, UN agencies, donors, and scientists have been critical and during this period, the transformation of ocean science capabilities, accelerating threats to ocean health and ecosystem services, and the growing challenge of sustainable development need the IOC and Member States to accelerate the pace of capacity development.
Since 2011 Oceans and the Law of the Sea Resolutions adopted by the UN General Assembly have recognised the need for cooperation, including through CD and transfer of marine technology, to ensure that States, especially developing countries and small island developing states, can implement the UN Convention on the Law of the Sea, benefit from sustainable development and participate in forums about marine and Law of the Sea issues.
The IOC Capacity Development Strategy (2015 – 2021) was extended to 2023 at the 31st Session of the IOC Assembly, this will allow the Group of Experts to draft an updated strategy at the 32nd Session of the IOC Assembly in 2023. The current strategy includes the following desired outputs and activities:
Human resources developed

Academic (higher) education

Continuous professional Development

Sharing of knowledge and expertise/ community building

Gender balance

Access to physical infrastructure established or improved

Facilitating access to infrastructure (facilities, instruments, vessels)

Global, regional and sub-regional mechanisms strengthened

Further strengthening and supporting secretariats of regional commissions

Enhance effective communication

between regional sub-commission

secretariats and global programmes as well as other communities of practice (incl. other organisations)

Development of ocean research policies in support of sustainable development objectives promoted

Sharing of information on ocean research priorities

Developing national marine science management procedures and national policies

Visibility and awareness increased

Public information

Ocean literacy

Sustained (long-term) resource mobilization reinforced

In-kind opportunities

Financial support by Member States to IOC
Opportunities 
Individuals or institutions can develop capacity via several routes including: access to higher education and infrastructure, professional development, strengthened secretariats for regional commissions, research policy, ocean literacy and financial support.
Ocean literacy is central to the CD Strategy and defined as an understanding of the Ocean's influence on people and humanity's influence on the Ocean. Enhancing Ocean literacy will involve communicating the relevance of the IOC's activities for sustainable development, working to implement the UN 2030 Agenda and contributing to the goals of the UN Decade of Ocean Science for Sustainable Development.
Capacity Development and IOC Programmes
Global Ocean Observing System (GOOS)
In 2011 the IOC decided there was a need to increase the number of Member States active in GOOS and that this could be achieved through Regional Alliances (below) which would develop sustained GOOS ocean monitoring and services to meet regional and national priorities.
International Oceanographic Data and Information Exchange (IODE)
Although there are no formal education programmes on oceanographic data management, the IODE programme has a history of providing technical training and organises technical training on marine information management.
The IODE implements capacity development through:
Regional ocean data and information networks (ODINs) which provide equipment, training, funding and networking of data/information centres in a regional consortium.
The OceanTeacher Academy which is a learning management system for ocean data managers and marine researchers. The OceanTeacher Global Academy Project is developing a global training centre network to increase national capacity in coastal and marine knowledge and management. 
Ocean Biogeographic Information System (OBIS) 
OBIS aims to be a gateway to the world's ocean biodiversity and biogeographic data and information needed to tackle coastal and global ocean concerns. Capacity development is in the OBIS Strategic Plan.
Capacity development in relation to HABs is based on the concept of community-based, participatory research with the goal for communities to achieve independence from training groups.
The terms of reference for the Intergovernmental Coordination Groups for Tsunami Warning and Mitigation System (Pacific Ocean, Caribbean, Indian Ocean and the North Eastern Atlantic and Mediterranean Sea) include Capacity Building elements.
Between 2010 - 2015 UNESCO and the Humanitarian Aid department (ECHO) provided 4 million euros for building resilience and preparedness at community level and building national policies for effective and sustainable early warning systems and risk reduction educational tools.
Coastal Zone Management and Marine Policy
In 1997 the IOC launched its institutional strategy to support Member States in developing Integrated Coastal Area Management (ICAM). Countries are supporting implementation of Sustainable Development Goal 14 ("Conserve and sustainably use the oceans, seas and marine resources for sustainable development") of the 2030 Agenda.
Collective capacities respond to emerging ocean issues through ICAM, Marine Spatial Planning and Sustainable Blue Growth initiatives, including transboundary and large marine ecosystem approaches for the sustainable use of marine resources, to achieve a healthy and a productive ocean.
Regional Alliances
IOC Sub-Commission for Africa and the Adjacent Island States (IOCAFRICA)
IOC Sub-Commission for the Caribbean and Adjacent Regions (IOCARIBE)
IOC Sub-Commission for the Western Pacific (WESTPAC)
UK Contributions
OceanTeacher Global Academy
UK scientists present on some of the OceanTeacher Global Academy courses e.g. the Sustainable Oceans, Livelihoods and food Security Through Increased Capacity in Ecosystem research in the Western Indian Ocean (SOLSTICE) Massive On-line Open Course (MOOC).
Contacts
Dr Ekaterina Popova, National Oceanography Centre
Dr Zoe Jacobs, National Oceanography Centre
Bilko Project
The UNESCO Bilko project provides free image processing software and training materials in marine and coastal remote sensing to users in over 176 countries. The project began in 1987 to support UNESCO's efforts to build capacity in ocean remote sensing among marine scientists in coastal and small island developing states but soon became popular in the developed world. Hosted at the National Oceanography Centre, the project has over 8000 registered users, with new lessons keeping pace with the rapid growth in satellite technology.
Contacts
Dr Val Byfield, National Oceanography Centre
Malcom Dobson, Bilko Development Limited, Dundee
Professor Alasdair Edwards, University of Newcastle
Group of Experts
In 2017 the IOC established a Group of Experts on Capacity Development (GoE on CD)  to help with implementation of CD needs assessments, develop work plans, mobilize resources and provide advice. The Group is starting implementation of the Transfer of Marine Technology Clearing House Mechanism (CHM).
Contacts
Alan Evans, National Oceanography Centre is the co-Chair of the Group of Experts on Capacity Development
Projects/Funding
The UK contributes (0.5% of GDP) to Official Development Assistance which helps fund science programmes such as the UK Global Challenges Research Fund. This has led to more projects delivering capacity development aligned to local requirements. e.g. the Sustainable Oceans, Livelihoods and food Security Through Increased Capacity in Ecosystem research in the Western Indian Ocean Programme (SOLSTICE) is delivering support in the western Indian ocean working with Tanzania, Kenya, Mozambique, Madagascar and South Africa. The UK funded Commonwealth Marine Economies Programme is delivering projects in the Caribbean and Pacific. Understanding the impact of these will ensure gaps are identified and needs addressed.
Latest update
At the 31st Session of the Assembly in 2021:
(1) It was agreed that the current strategy would be refreshed by 2023.
(2) The Terms of Reference were revised.
(3) IOC regional subsidiary bodies and regional components of global programmes were called upon to promote contributions to the CD survey.
(4) Member States were invited to participate in the co-development of IOC capacity development.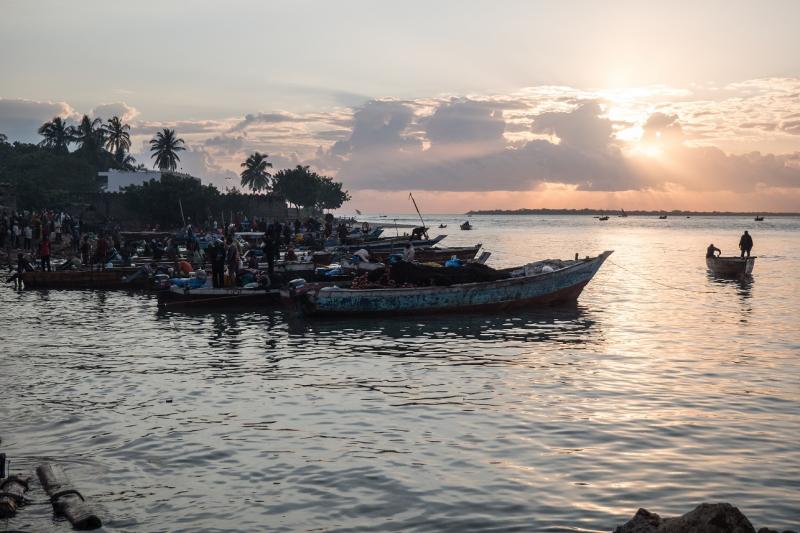 Image credit: Damien Cook