CAMEL capabilities, equipment and specification
The CAMEL Facility – Detailed Description
The CAMEL Facility Comprises:
An Operations Container
A Workshop
A C-Worker-4 Unmanned Surface Vessel
Three exchangeable sensor payloads
Camel Operations Container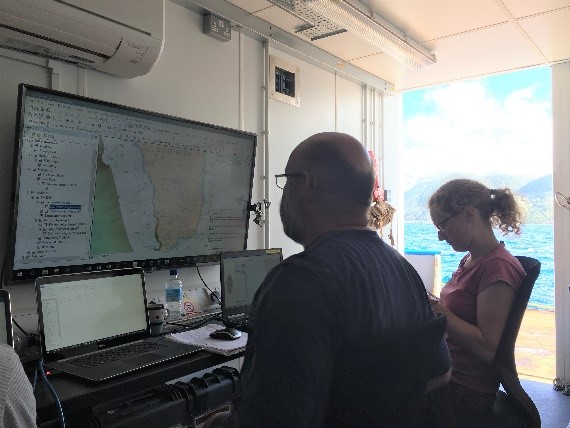 The Operations Container is a 20' ISO container that has been converted into an insulated, air-conditioned control centre for the USV.  It provides a location where scientists can work and analyse data. It can be powered either from shore power or from its own diesel generator, and it houses the communications equipment required for communication with the USV. Guarding can be installed on the roof of the container to provide a raised viewing platform, and an extending communication mast increases the operational range of the USV.The container can be installed in the deck of a suitable vessel, as seen in the picture on the right.  The Operations Container can easily support 4 scientists and has a video wall, networking and bulk data storage capability.
It is possible to transport the USV in this container instead of the Workshop container .
Camel Workshop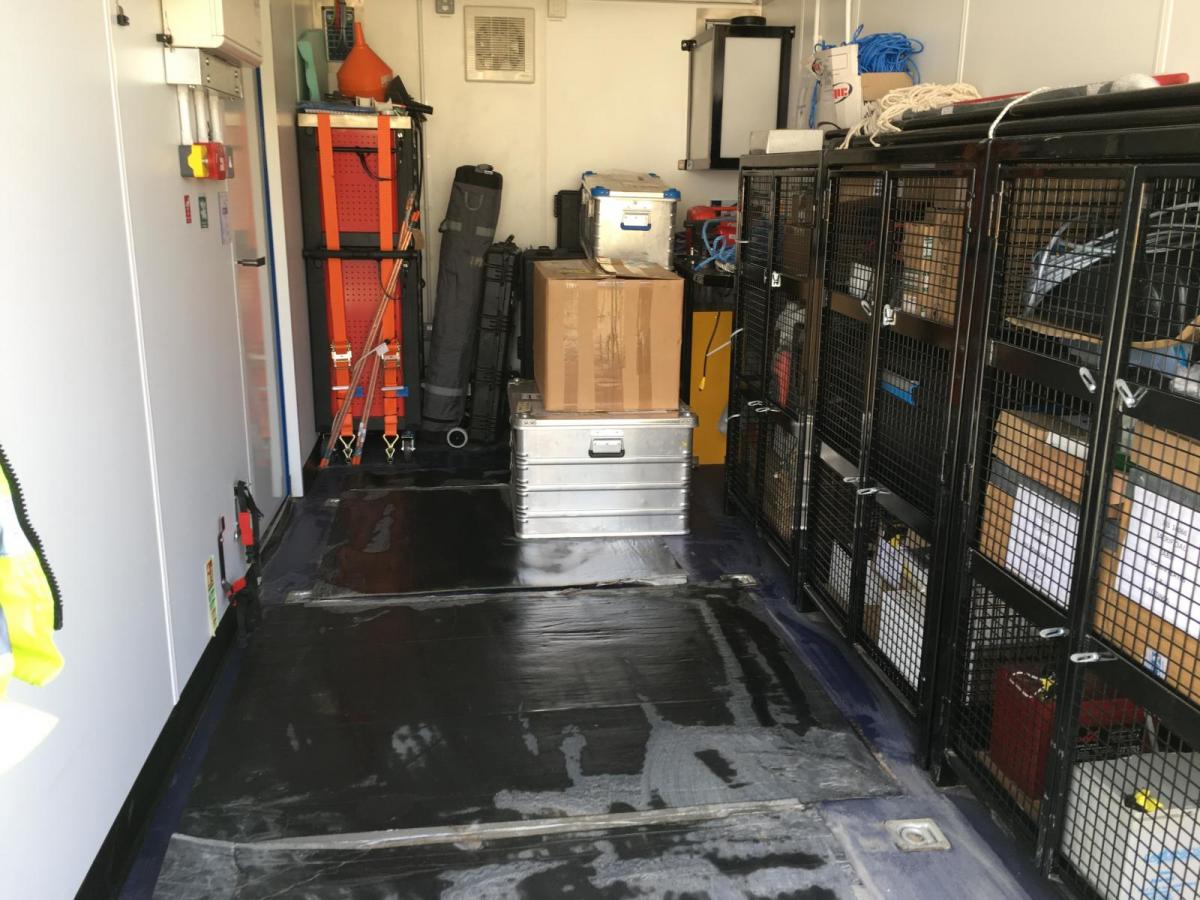 The Workshop contains a workbench, tools, storage for various items such as sensors, life jackets and spares. It is generally used for maintenance and repair activities. The USV is transport to site in this container. It may be powered either from a single phase, 50Hz, 240V supply (32A socket) or from its own diesel generator. Power may be taken from, or supplied to, the Operations Container.
Ramps and an electric winch facilitate loading and unloading of the CW4.
C-Worker 4 Unmanned Surface Vessel
C-Worker 4 autonomous surface vessel can be operated either in fully autonomous mode, when she follows a pre-programmed mission profile, or as a remotely operated vessel where she is controlled either from the Operations Container, shown above, or from a support vessel. The support vessel requires a small cabin (as shown in the photograph). Electrical power is desirable but not essential as the communications equipment can operate from battery power. The customisable payloads, described below, can be exchanged, on shore, in about 2 hours. The USV can be launched and recovered from a beach, slipway or crane.
Line of sight is required between the Control Station and the USV; depending on the antenna height, an operating range of up to 10 km can be achieved.  Work is progressing in enabling satellite communications between the Control Station and the USV.  See Table below for the specification of the C-Worker 4.
Data from the payload sensors is stored on computers in the payload bay on the USV.  Data from the sensors can be viewed at the Control Station in real time.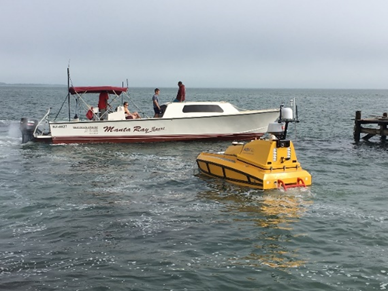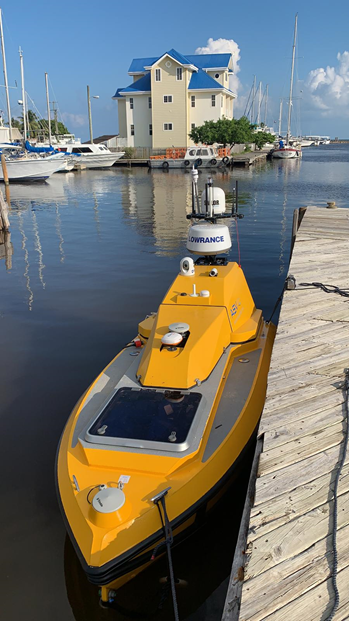 Length

4.17 m

Beam

1.58 m

Height

2.5 m (including antennae)

Draft

Draft with payload deployed 0.6 m

Weight

680 kg lightship.  Maximum fully laden weight: 905 kg

Primary propulsion

Marine diesel engine driving waterjet

Speed

Up to 7 knots.  Typical Survey speed – 4-5 knots

Command/control

ASView control system. CODFM IP radio and Serial UHF radio

COFDM IP Frequency: 1310 MHz

Serial UHF Frequency: 450.025 MHz

Vision Systems

Day/night camera

Thermal imaging camera

Navigation Equipment

Lowrance 4G radar

McMurdo M10 Class B AIS transponder

Maretron SSC300 solid state compass

AirmarDST800 speed/depth transducer

Atlas link GNSS

Applanix Pos MV

Wavemaster II INS

Navigation and Signal Lights

Port (red) navigation light

Starboard (green) navigation light

Anchor (white) light

Antennae

D+M Omni IP Mesh

AIS VHF

UHF

Wi-Fi

GPS
CW4 Payload Options
The CW4 has three payloads, designated hydrographic, geophysical and oceanographic.  Each payload is connected to a PC that is contained in the payload bay in the USV.  Only one payload can be connected at any one time.  The data that is being collected by the payload sensors can be viewed in real time at the control station.
The payload is remotely lowered through the hull of the USV after launch. Other sensors can be added to the payload, according to the needs of the deployment, subject to space and power requirements.
The vehicle's payload computer and installed sensors are powered by a 240V 50Hz inverter. Sensors are mounted to a plate (hich is lowered from the hull of the vehicle when in operation, and housed inside the hull when not in use. The ability to raise and lower the payload prevents damage to sensors when moving the C-Worker 4 in and out of the water and in shallow water. When the vehicle is stationary, the sensors sit at 0.65 m depth and when in motion, the sensors sit at ~0.55 m. .
Hydrographic Payload

Kongsberg EM2040P

MBES, 200 to 400 Hz. 140 degree coverage to 300Hz, 120 degree at 400 Hz includes backscatter and water column data options

Valeport Mini SVS Sensor

1375 – 1900 m/s

Geophysical payload

Edgetech 6205 with 216 Sub Bottom Profiler

Multi-Phase Echo Sounder (MPES) providing bathymetry (12 x water depth), side scan sonar and sub-bottom profiling.
Oceanographic Payload

Sensor Parameter

Sensor Manufacturer                    (& Logger)

Method of Sampling

Sampling Frequency (s)

Factory Accuracy

Conductivity

RBR (on RBR Concerto3 1)

Inductive current & receiver

0.125

±0.003 mS/cm

Temperature

Aged glass thermistors

±0.002 °C

Sensor Depth

 

±0.05 %

Dissolved O2 (DO)

RBR, normal foil (on RBR Concerto3 2)

Optically –dynamic luminescence quenching

0.5

 

±8 µM

Temperature

RBR (on RBR Concerto3 2)

Aged glass thermistors

±0.002 °C

pH

Idronaut (on RBR Concerto3 2)

Glass membrane pH electrode

0.01

pCO­2

Turner C-sense (on RBR Concerto3 2)

non-dispersive infrared (NDIR) detector

± 3% full scale (1000 ppm)

Nitrate

Seabird SUNA V2

Optical UV

0.67

± 8µM

Chlorophyll

Sea-Bird WET Labs EcoPuck Triplet Optical Sensor

Fluorescence (695 nm)

1.06

± 0.025 µg/l

Coloured Dissolved Organic Matter (CDOM)

Fluorescence (460 nm)

±0.28 ppb

Optical Backscatter

Optical Backscatter (700 nm)

± 0.003 m-1

Dissolved Organic Carbon (DOC)

S::can Spectro::lyserTM­

UV-Vis spectrometry (190 -750 nm)

180

± 2%

Turbidity

Total Organic Carbon (TOC)

Current profiling

Nortek Signature 500  Acoustic Doppler current profiler (ADCP)

Acoustic Doppler

1

± 0.1cm/s (velocity resolution)