PAP April 2016
The near real time data from the deployment in April 2016 are available below.
The research ship RRS Discovery cruise DY050 serviced the mooring in April 2016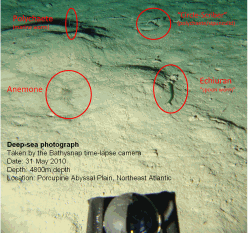 Unfortunately, the transmission failed shortly after deployment, and near real time data feeds were lost.
The sensors continued to operate and record data locally, and were recovered in April 2017 when the mooring was serviced.
After recovery, data were archived at the British Oceanographic Data Centre (BODC) and can be accessed at: BODC PAP Collection
A diverse range of Essential Climate variables are measured and sampled at the PAP site from the atmosphere and surface ocean to the seafloor. Seafloor sampling includes trawling, coring, towed camera systems from a research ship and time-lapse photography. Since 2002 many of the upper ocean measurements (0-1000m) have been transmitted in near real-time.
Downloadable Data
To download data in ASCII format click here.
To download data in OceanSITES Netcdf format click here.
Below are the graphs generated in near-real time from data gathered at PAP. Click on an image to see a larger version.
Click here to view engineering graphs


---
Oceanographic instruments on keel and at 30m on frame, operating in near real time
---
---
---
MetOffice UK Meteorological Data
PAP is part of the MetOffice network of weather buoys, click here to view the full network.
---
---
Seafloor (4800 m)
Seafloor samples have been taken at the PAP site for over 20 years. Many methods can only be achieved from research ships but some (time-lapse camera) is autonomous for high resolution long-term sampling.
| Method | Used for | Contact at NOCS, UK |
| --- | --- | --- |
| Trawls | Megafauna (Species diversity, abundance and biomass | Dr David Billett |
| WASP | Wide-Angle Seabed Photography towed camera system | Dr Brian Bett |
| Cores | Boxcores, Mega- and Multicores for fauna and geochemistry | Prof. Andrew Gooday |
| Bathysnap | Time-lapse photography | Dr Brian Bett |