Tsunami Warning Systems

Sub-sea earthquakes cause tsunamis, a series of waves carrying a massive volume of water, which can be disastrous for low-lying coastal communities. The IOC Tsunami Programme is run by the IOC-UNESCO Tsunami Unit (IOC/TSU) and has a primary aim of reducing the loss of lives and livelihoods due to tsunamis. The IOC/TSU does this by guiding and supporting the IOC Member States in two main ways: (1) coordinating the implementation of regional Tsunami Early Warning Systems and (2) educating communities who are at risk.
1. Implementing Tsunami Early Warning Systems
In 2007 the Working group on Tsunamis and Other Hazards Related to Sea-Level Warning and Mitigation Systems (TWOS-WG) was formed to oversee the global coordination of the Tsunami Programme (No UK Contact). TWOS-WG Task Teams are deployed when specific technical advice is deemed necessary and are currently:
Disaster Management and Preparedness (No UK Contact)
Tsunami Watch Operations (No UK Contact)
The IOC-TSU also oversee the Tsunami Warming Framework.
The Tsunami Warning Framework is globally coordinated via the IOC/TSU through regional tsunami warning systems (TWSs). These TWSs have:
National Tsunami Warning Centres (NTWCs)/Tsunami National Contact: UK contact: Angela Hibbert (NOC)
Tsunami Service Providers (TSPs): UK contact: None
Tsunami Warning Focal Points (TWFPs) where information is received from TSPs: UK contact: Defra
There are four regional Intergovernmental Coordination Groups (ICG): Caribbean (CARIBE), Indian Ocean (IO), Pacific Ocean (P) and North-eastern Atlantic and Mediterranean. Within each of these there are a number of working groups (Figure 1). The UK contacts for the ICGs are: 
UK contributions
For the ICG/NEAMTWS, the UK has hosted meetings (at the University of Southampton (NOC) for the 9th Session) and taken part in NEAMWave exercises. These exercises are based on hypothetical tsunamis to ensure each country has a fit-for-purpose response to a tsunami. Cornwall Council participated in the first NEAMWave exercise in 2014 and while the UK did not participate in the 2017 activity, UK tidal gauges were used in the scenarios. The UK has stated they are planning to be involved in NEAMWave20. 
For the ICG/CARIBE-EWS, the British Virgin Islands sits as a Vice-Chair on the committee. The UK has also provided tidal gauges and financial support to the hurricane monitoring systems in the Caribbean.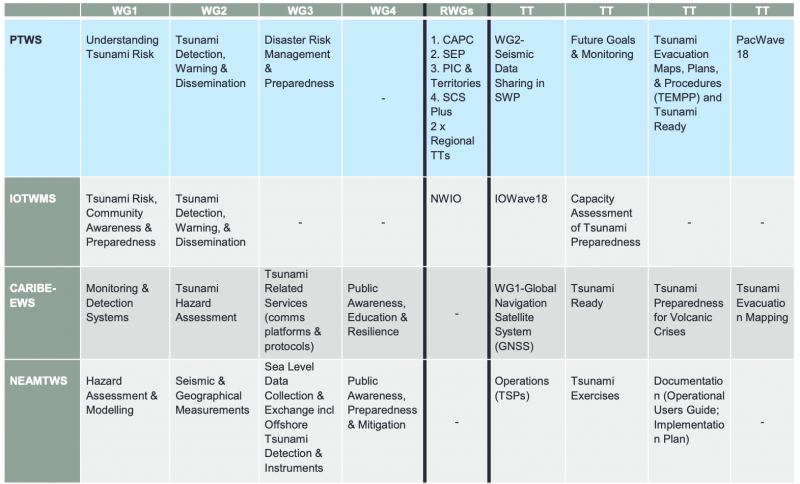 2. Educating Communities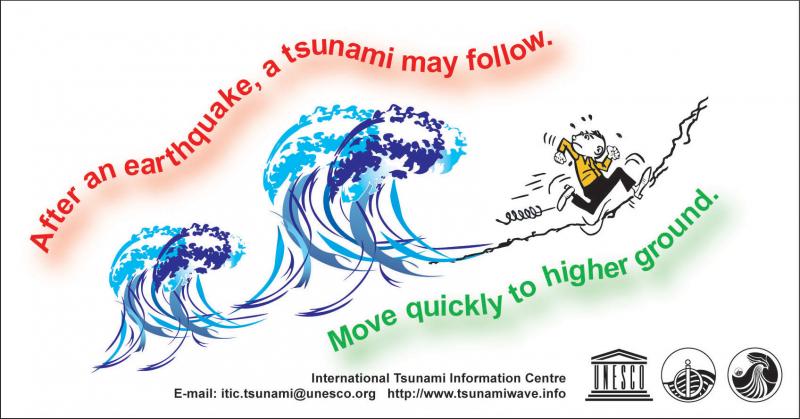 Four Tsunami Information Centres (TIC) exist for providing education, outreach, technical and capacity building assistance to Member States and the public in preventing, preparing, and mitigating measures for tsunamis: 
UK contributions
The UK did a press release on World Tsunami Awareness Day in 2018.